P3 Pump Primer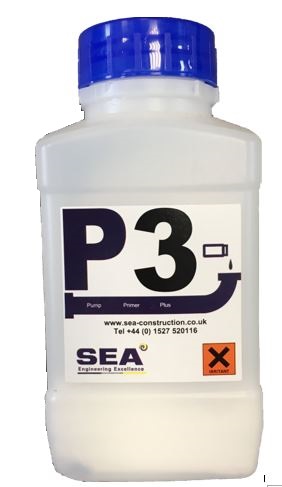 For many years, our customers have been buying their primer from one source, not through choice, quality or price but because there hasn't been another product on the market. Our customers asked us if we would produce an alternative. For the past three years we've been trialling various products / ingredients and thank you to those companies that helped us along the way with your feedback. In 2017 we launched P3, a product that's easier to mix, lines both rubber and steel pipes easily and costs a fraction of previous prices in the market.
The Headline
P3 is a highly concentrated pump primer which aids the flow of concrete through both steel and rubber hoses and reduces the risk of blockages.
Packed in convenient, easy to handle and waterproof 200gm bottles, P3 is equivalent to a bag of cement but with siginificant advantages over cement, such as:
Why use P3?
Easy to transport and handle - 40 bottles to a box

Clean to use with no risk to health (Material Data Sheet available)

Cheaper and lighter than cement

Unlike other primers it dissolves completely leaving no 'jelly fish' in the bottom of the bucket!

Works for all grout and concrete delivery systems
Usage
For rubber hoses we recommend one bottle to be mixed with 15 litres of water to line 20 metres, although in site trials one bottle has been pumped a total of 69 meters. Much less is required for steel.